Virtual AGMs
With the new rules on AGMs being delivered remotely, this is a new area for the industry.  We have been streaming AGMs for many years and offering informal voting for just as long.  We can offer a system that is secure and ensures that each shareholder only votes once.  Security is paramount and because we develop all our software solutions in-house, we can ensure that you not only pass regulatory criteria but you also surpass your shareholders expectations as well.
A virtual AGM is essentially a compliant video stream or webinar.  For the full list of what we do please see our streaming page.  However for AGMs we recommend our Hybrid Streaming AGM package.
Typically there will be one main site with the largest audience (or most important presenters). This can be our data-centre (bridge) if you prefer for nobody to leave their homes.
From here remote presenters can be introduced and collaborated with, normally over Zoom or Skype, but phone options are also available. The presenters can choose to mute their audio or video, as well as chat internally or with the bridge with our text chat system.
The presenters are mixed together by our bridge staff, we can also overlay (or mix to) PowerPoint and Keynote presentations.
We can the record the whole output and live stream it to a larger global audience.  This audience has the option of asking questions through a web-form as well as voting on key topics.
The voting can be based on shareholdings and password protected.  The results are displayed back to the chairman less than 30 seconds later.  Feedback questions can be moderated by us or your team via a web interface and then relayed to the chairman to ask as they see fit.  Again this can be anonymous or linked to shareholding numbers.
The options are limitless so it is best to talk through all the options with one of our project managers.
Our Solution – Eventcaster
Cameras
If we can come to you we can mix as many cameras as you need, in Full HD or 4K resolution. With a mix of manned, stationary, or remote-control cameras, you can rest assured that we will have all the action covered.
Working Remotely
If we can't come to you we can join your team together.  We have our own collaboration system so we can guarantee quality and up-time.  However we can interface with skype, bluejean, webex and many more if you prefer.
Streaming
We can stream the footage over our leased satellite system or venue internet connection to our dedicated CDN (streaming servers) at the best possible bitrate in order to preserve quality.
Global CDN
The stream is distributed through our global CDN which supports 10,000+ per stream.
We support YouTube, Facebook as well as most major CDNs, should you wish to use your own.
Modular System
You can use as much or as little of our service as you require. If you have your own cameras and switching gear, or your own streaming platform we can fill in the gaps! Our streaming platform works on all modern browsers and devices. You can watch on your laptop, desktop, mobile phone, tablet or smart TV.
Pricing
We offer a bespoke service, however due to demand we have put together some packages to give you an idea of the cost.  We recommend you give us a call to discuss your exact needs and we can put together a full quote for you.
Features
COMPARE PACKAGE FEATURES
Breakouts / Concurent Meetings
Sponsorship/Advertising Banners
Viewer Allowance Included
Single Managed Slide Deck

4 Hours across two sessions
Single Managed Slide Deck
During Office & Event Hours
Standard Sponsorship Package
Up to 10 Pre Recorded Videos
3 Pre Event Emails & 1 Post
Multiple Managed Slide Decks
Included Pre & During Event

Included Pre & During Event

Is It legal?
On the 28th March 2020 Alok Sharma made the following speech in response to supporting business through Covid-19
"This [AGMs] might include postponing or holding the AGM online, or by phone using only proxy voting,"
The regular rules must be followed.  For example 21 days for and AGM (14 for general meetings) must be given before the stream.  You may be required to prove a certain number of shareholders (minimum quorum) were present or viewing the stream and security should be in place to ensure only shareholders vote and that they vote once. These should be listed in your articles of association.
In theory you should amend your articles for part or full virtual AGMs to be allowed, however the latest statement from the government would suggest this is no longer a requirement due to Covid-19. Most companies have already amended their articles to allow part of the audience to be online.  Therefore if required you can hold the meeting in a public place whilst suggesting to the shareholders that they should consider public heath advice before turning up.
It is considered best practice for all the directors to attend but it is not a legal requirement.  Using our Hybrid approach all the directors can be in the same virtual conference room which is then streamed to the shareholders.
Why can't we just use zoom / bluejeans etc.?
The issue with these platforms is that everybody joins with the same privileges.  You cannot guarantee only shareholders attend and they don't support weighted voting.  Also you can't reliably give figures on who did attend so you can't be compliant.  We sometimes use these technologies for our hybrid approach.  However you cannot use it for streaming to your shareholders especially if you need them to vote.
Rental Cameras and Laptops
What if your presenters don't have webcams? We can help there too.  As a complete Event IT solutions company we have a large rental stock of networking equipment, printers and of course web streaming equipment.
Should your presenters need pre-configured laptops, webcams or microphones then we can help.  All our equipment is sterilised before it is shipped and we use reputable couriers to ensure it is delivered on time.  All your presenter need do is provide an internet connection (although we can do that to).
Extra viewers are charged at 15p per hour.
For more information please see our downloadable information on  Virtual AGMs. Or feel free to get in contact
Please note the information on this page is given in good faith. Always check the latest rules on the government website and if in doubt consult independent legal advice.
Large Scale delivery of your content.  This can be achieved via a virtual gallery with everything online.  We can use a remote gallery  where we bring all the content in to a high end switching room or we can provide a hybrid event at your location.  This allows the best of both worlds.  Learn More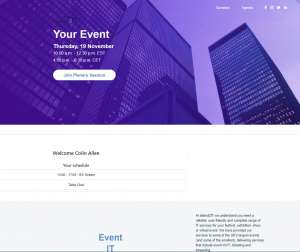 All our large streams are done with 5-6 seconds end to end latency. Latency is the time taken from the words coming out of the presenters mouth to get to the listeners ears. It is one of the areas that is often overlooked in streaming.
Imagine you have interactive content, a vote or poll if your presenter asks the question and then has to wait 30 seconds for the results to start to come in. You are going to need lower latency otherwise your event is going to become very stagnated. Learn more here.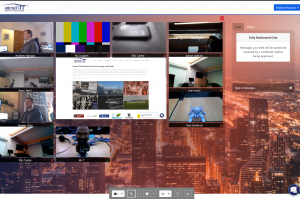 Useful for breakouts and coffee breaks we offer group discussions.  With tables from 2-16 video participants plus their content (we can stream to 10,000+ viewer only) we can offer a variety of solutions. Randomised, pre-booked, pre-assigned, unlimited, against the clock or a mixture of all.  Each call is secure with no chance of a table  being video bombed.  We can currently support 750+ tables at a time, so that's over 12,000 delegates who can get together and talk. Learn More.