Virtual AGMs
With over 10 year's experience of AGM steaming and informal voting, we can guarantee a secure and professional system that will pass not only regulatory criteria, but you also surpass your shareholders expectations. We develop all our software in-house giving you a bespoke and personal finish with security being paramount.
 For the full list of what we do please see our streaming page.  
Typically there will be one main site with the largest audience (or most important presenters). This can be our data-centre (bridge) if you prefer for nobody to leave their homes.
Audience can vote live on the stream for key topics.
We can the record the whole output and live stream it to a larger global audience.
The audience can ask questions through the stream.
we can also overlay (or mix to) PowerPoint and Keynote presentations.
Cameras
If we can come to you we can mix as many cameras as you need, in Full HD or 4K resolution. With a mix of manned, stationary, or remote-control cameras, you can rest assured that we will have all the action covered.
Working Remotely
If we can't come to you we can join your team together.  We have our own collaboration system so we can guarantee quality and up-time.  However we can interface with skype, bluejean, webex and many more if you prefer.
Streaming
We can stream the footage over our leased satellite system or venue internet connection to our dedicated CDN (streaming servers) at the best possible bitrate in order to preserve quality.
Global CDN
The stream is distributed through our global CDN which supports 10,000+ per stream.
We support YouTube, Facebook as well as most major CDNs, should you wish to use your own.
Modular System
You can use as much or as little of our service as you require. If you have your own cameras and switching gear, or your own streaming platform we can fill in the gaps! Our streaming platform works on all modern browsers and devices. You can watch on your laptop, desktop, mobile phone, tablet or smart TV.
Zoom / Skype / Teams Bluejeans / Webex
Basic software perfect for low production, real time meetings, and low budgets. Convenient for little effort and cost.
We offer a support service for common conferencing software and hardware. We use professional cameras, mixing and encoding to make the main location look polished to your satellite sites. We can assist your attendees virtually with no disruption to your meeting and provide the vital internet connection at locations where connectivity is lacking.
Short for web-based seminar "webinar" or webstreams are primarily one presenter to many viewers. This is typically done through a CDN (content delivery network).
We have our own CDN that can support 10,000+ viewers per stream. It also allows you to have VOD (video on demand) as the event is live. This means as the event progresses a viewer can drop in any point or choose to rewind to the beginning, or anywhere in between.
Our general feedback is that our clients have a preferred CDN. We can and have streamed to Facebook live, YouTube and various paid for services and are happy to advise you in the best choice for your event.
A more traditional approach to Telepresense, but no less effective.
We have a large fleet of video conferencing units which allow for seamless two-way audio and video in HD. Quick to deploy and affordably priced, these are a popular solution and work with our IP Satellite links.
We can offer a range of solutions depending on the remote site's capability, and provide crew at each location to ensure a seamless join.
INTUITIVE VIRTUAL EXHIBITION PLATFORM
With Built in registration, lead capture and smart networking features Eventcaster has everything you need to hold a successful Virtual or Hybrid Exhibition.
How does it work?
The entertainment part of Eventcaster is unique in its ability for guests to sit at virtual tables and talk to each other whilst watching the main act.
Due to the small table's attendees can talk together with ease. The main act can be muted as required, as can the remainder of the table to enjoy the show. Users can move to different tables to socialise in different spaces, and there is the option for text chat and pub style quiz. This a completely bespoke service with endless possibilities.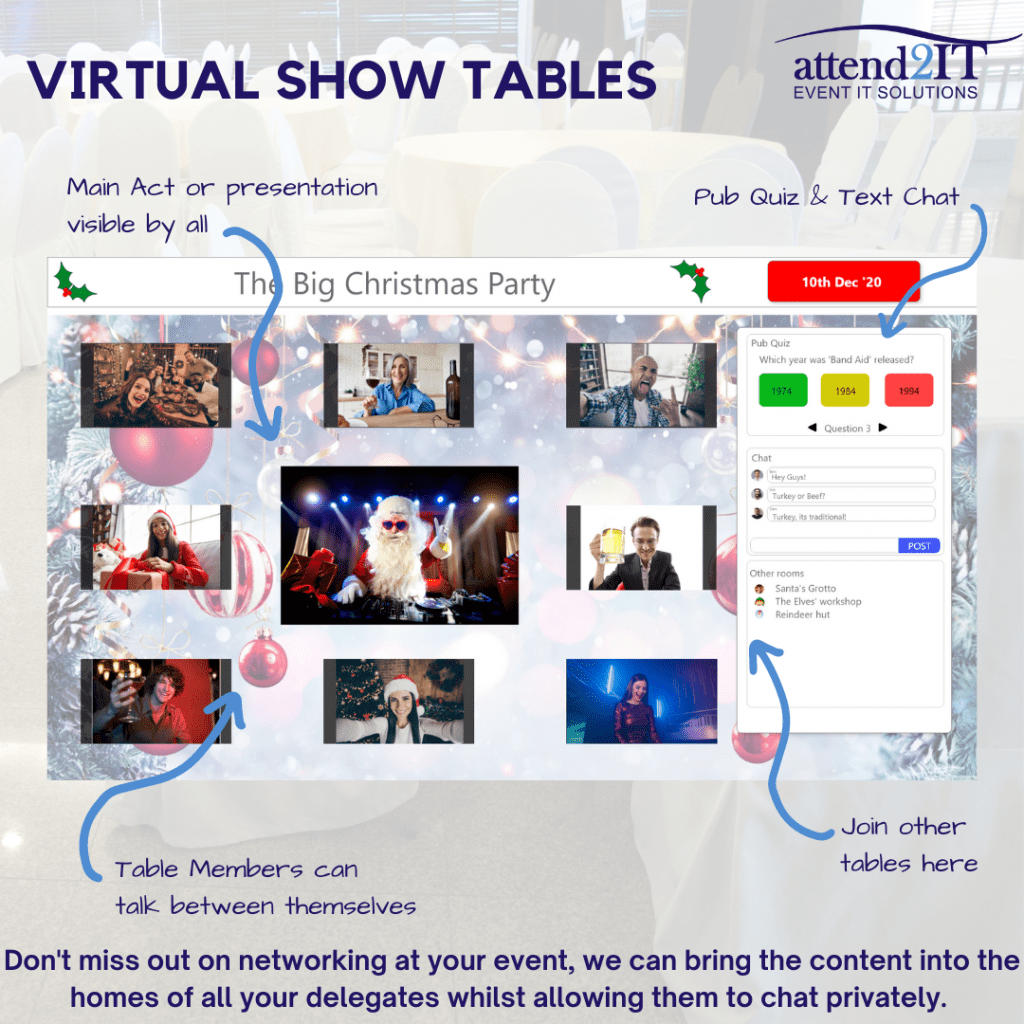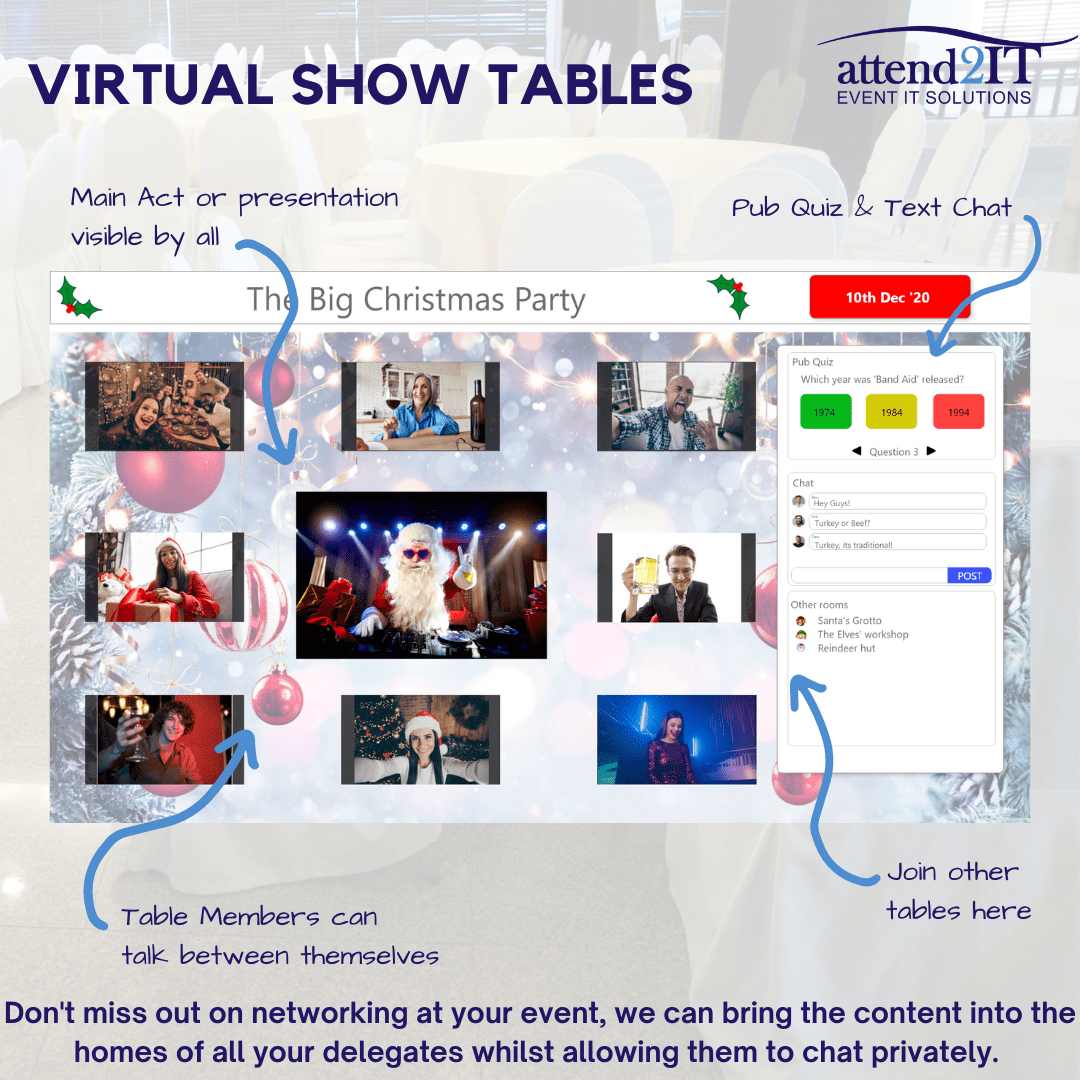 Networking
Our bespoke, in house developed software goes further than traditional platforms by incorporating one of the biggest assets to successful business: networking. Whether its gaining new clients, or finding new service providers, it is without a doubt, that the opportunity to meet new people must not be overlooked, especially as move through these unprecedented times, restructuring to keep our businesses alive. With Eventcaster Networking, we can host entire virtual tables, of scalable size, from a small intimate gathering to large corporate events.
With a completley bespoke solution, there are no limitations on the virtual 'layout' of the event. Attendees can discover and learn about new opportunities in multiple virtual spaces of varying size, as well as pursue new ventures themselves within their own space with other attendees of their choosing, be it just one other individual or half of the event!
A complete solution that walks you viewers through from registration, plenary, breakouts and even a 3D walkthrough of your lobby for guests to visit your sponsors.  Completely bespoke but based on our core products, so fully customised but without the high price tag!
We can offer synchronised streaming for all your devices.  VR (2D or 3D), iPads and android tablets are all supported.  Using a combination of our Ultra reliable WiFi and some clever server technology we can stream to hundreds or thousands of devices in sync with a delay of less than 500ms.  Just give us the content and we can do the rest!
We can provide from camera to viewer or just a part of the solution if you want to hand the video to us or use your own devices. This service is already proving popular in a lot of events so get in contact for more info or a proper demo.
A Virtual walk though of one of our shows
In October of 2020 we provided Eventcaster Exhibitions to Agri Insider for their Virtual National Dairy Show. Over 1600 registrations were received, with the event held across 2 evenings, with a main plenary session showing live and pre recorded content and 44 exhibitors and sponsors. Take a brief tour of the show and get a feel for what Eventcaster Exhibitions could do for your virtual event.
Is It legal?
On the 28th March 2020 Alok Sharma made the following speech in response to supporting business through Covid-19
"This [AGMs] might include postponing or holding the AGM online, or by phone using only proxy voting,"
The regular rules must be followed.  For example 21 days for and AGM (14 for general meetings) must be given before the stream.  You may be required to prove a certain number of shareholders (minimum quorum) were present or viewing the stream and security should be in place to ensure only shareholders vote and that they vote once. These should be listed in your articles of association.
In theory you should amend your articles for part or full virtual AGMs to be allowed, however the latest statement from the government would suggest this is no longer a requirement due to Covid-19. Most companies have already amended their articles to allow part of the audience to be online.  Therefore if required you can hold the meeting in a public place whilst suggesting to the shareholders that they should consider public heath advice before turning up.
It is considered best practice for all the directors to attend but it is not a legal requirement.  Using our Hybrid approach all the directors can be in the same virtual conference room which is then streamed to the shareholders.
Please note the information on this page is given in good faith. Always check the latest rules on the government website and if in doubt consult independent legal advice.