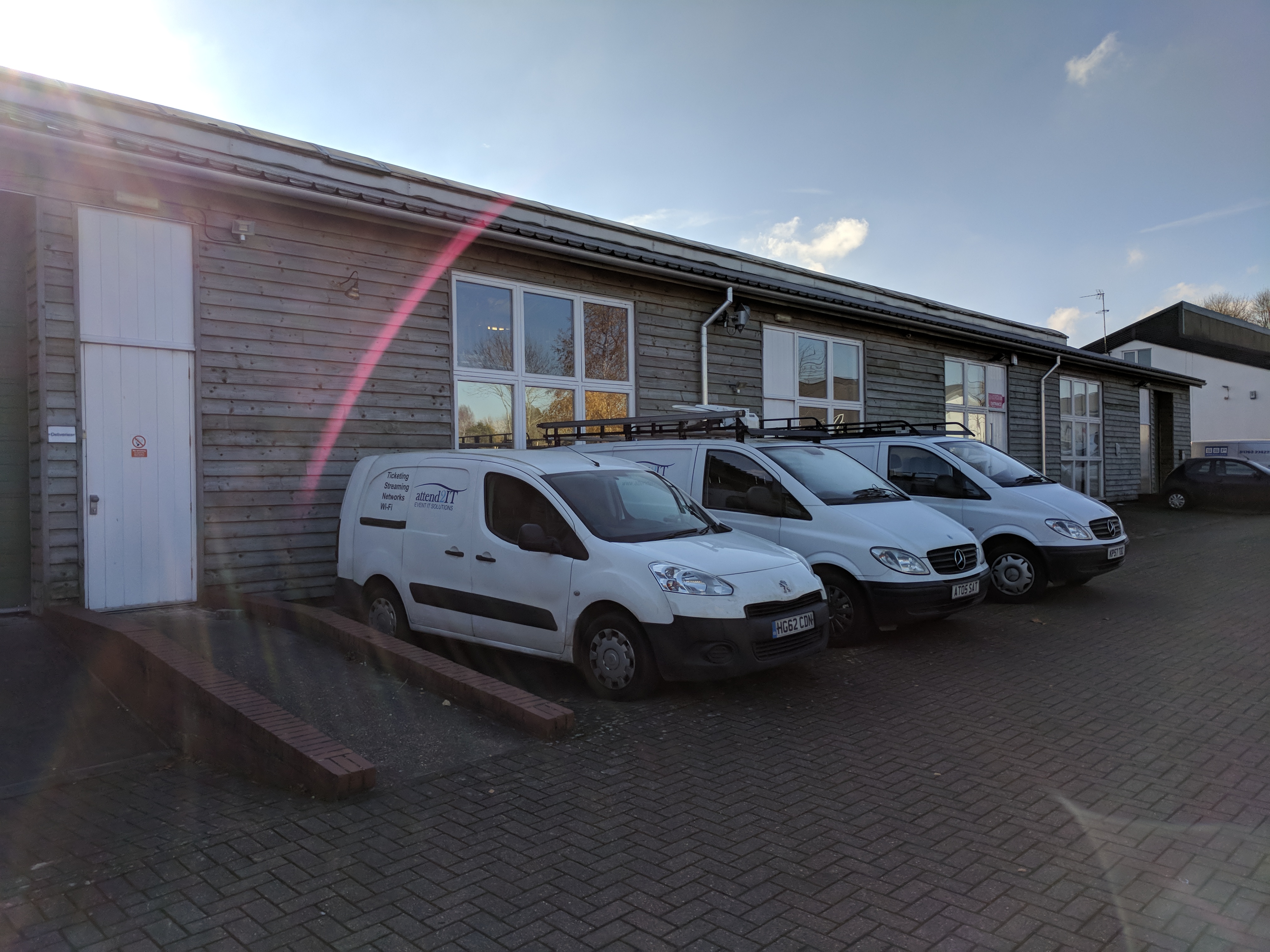 We are not just one person and we understand the team is what makes our events successful. From the Project Manger who specs and sells the event to the NOC (network operations centre) who setup and remotely support our onsite team our staff are our most important asset. They are what turn rental items in to a solution and we believe we have the best available!
attend2IT aims to provide a flawless and complete Event IT Service.  Its not just WiFi! We also offer a large range of services to support the Event industry, from silent auction texting to webstreaming attend2IT is a company you can trust to get the job done. First time – every time. attend2IT understands the unmovable deadlines of the Events industry, we are very much an event company first. 90% of our work is temporary installs and 99% is for the events industry.
Based in Hertfordshire we are ideally placed for events across the UK. We travel extensively across Europe and sometime the world to support our clients in their international events.
Managing Director
Dominic attended Birmingham University, where he secured a solid grounding in the events industry before joining AVSC and worked his way up to Area Manager. He moved around the country from Manchester back to Birmingham, working on small and large events, before moving back to the South to start a family.
After a few years freelancing, and seeing the opportunity to meet the IT support needs of the events industry, he started attend2IT. As the company has grown he now supports the on-site teams from the NOC as well as on-site for more complex shows.
Technical Director
Andy studied Chemistry at Birmingham University before moving to Cardiff to start his PhD. Deciding that Chemistry wasn't for him, Andy went off to work in the events industry as a hotel AV manager before working for a number of AV companies and finally going freelance.
He helped start up attend2IT and as the company has grown he now supports the development team as well as writing software for some of our more complex projects. He can also be found on-site Project Managing during our busier periods.
Project Manager / Warehouse coordinator
Toby studied Audio Systems at University and began working at a leading events company, he migrated to attend2IT late 2015 to focus on specialising his career in IT.
He started as an event IT technician and quickly moved up in the company. Now with his own jobs and clients he is an excellent project manager and engineer, running multiple large-scale events each year. He also looks after the logistics of the warehouse, ensuring correct levels of kit are maintained.
Project Manager / H&S coordinator
Colin studied Acting at North Hertfordshire College before starting a career in technical theatre. He worked at the Gordon Craig Theatre for many years, progressing to deputy chief technician. Since leaving the Gordon Craig he has been diversifying his skills and has been a buildings and technical manager and operations director for the past 5 years, specialising in health and safety.
Colin joined the team in 2019, keen for a new challenge and to learn new skills.
Project Manager
Ryan achieved a diploma in engineering from Meridian School and joined attend2IT as an event IT technician in 2014.
After quickly adapting to the fast paced environment of the events industry and running many of his own jobs, he was made a Project Manager in 2016 and continues to develop in the company.
Developer
Sam graduated from the University of Lincoln with a degree in Games Computing in 2012, since then he has gathered a wealth of programming experience in a variety of languages as a freelance web developer.
Eager for a new challenge in a varied environment, he turned to the events industry and joined attend2IT in 2017. If he isn't at his computer creating websites and computer games, he can be found hiking in a national park or jogging around Hertfordshire.
Logistics and NOC Manager
Sophie has an NVQ in Business and Administration (OCR Level 3) from Hertford Regional College. Since joining the team in 2016 Sophie has gained key technical skills and completed Ruckus training.
She now looks after the NOC and logistics in order to support our on-site teams and long term hires. In her spare time Sophie enjoys country activities and is currently treasurer of North Herts Young Farmers Club.
Company Administrator
Kerry received a GNVQ in Business Studies at Oaklands college, then went on to work as PA / Events organiser for a speciality chemical company.
Joining attend2IT in 2018 to proceed in the events industry after relocating to Buntingford to bring up her family.
Event IT Technician
Ellis studied at Long Road Sixth Form and started out in Freelance Design and Photography before becoming a Music Producer and DJ. After receiving the honor of being on BBC R1 "Record of the Week" and getting to #19 in the charts he decided to get a proper job!
Ellis Joined us in 2018 and continues to add to his knowledge of computing and networking.
Event IT Technician
Rob joined us in March 2020 whilst working towards hiss Cisco CCNA. Previously working as a Senior Chef in a 5 Star Hotel, Rob is good at feeding the crew when we are staying away!
Event IT Technician
Having taken an ICT level 2 at North Hertfordshire College, Kieran took an apprenticeship with a large car manufacturer.
Deciding to return to his passion for IT, he joined attend2IT in early 2018. When not travelling around Europe for the company he can be found swimming, playing badminton or playing computer games.
Junior Developer
Brooklyn studied computer games programming at the university of Gloucestershire being taught in-depth use of game engines such as Unity and Unreal 4 with C# as-well.
He Joined in May 2019 to help the warehouse team and our existing team of on-site Techs
Trainee Event IT Technician
Chris's main passion is cars and motor sport; I am a car enthusiast and love all motor sport from Rally Cross to Formula 1.
He is very sociable and enjoy movies and gaming, but also value family time and long walks with his dogs.
Junior Developer
Ryan joined us in June 2020 to help with the new demand of virtual and hybrid events.
MOTIVATIONAL MASCOT
Lucy specialises in providing love and mayhem in equal parts, ensuring that all members of staff spend an appropriate amount of time playing with her throughout the day.
Chaos Trainee
Ted comes to visit on special occasions causing a stir in the warehouse. When he isnt underneath Kerry's desk he can be found stealing Lucy's bone.
Chill Manager
Chico can be found following Ellis round or sleeping in his warehouse bed. He likes to do the occasional rounds to make sure he hasn't missed anybody.
Privacy Policy
We take data collection very seriously for both our paying clients and ticket customers.  For full details please see here.