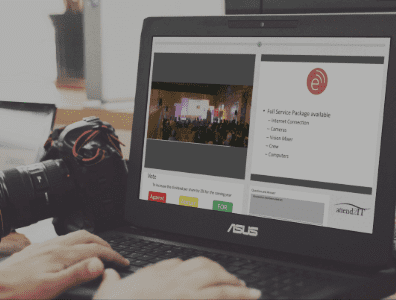 Eventcaster is our virtual event environment software.  It covers a number of technologies, from AGMs, Low Latency Streaming and Large scale webinars – Eventcaster has a solution that we can tailor to your needs.
Rather than focusing on just the technical and physical issues that happen with typical 'webinars', we aim to connect people together in an exciting and new digital way, that is more than just a conference call.
Never has it been more important to keep social, with many of us feeling more isolated than ever it can be difficult to bring home the benefits that come with physical professional and social networking. We bridge the physical distance  between the delegates and participants, removing the usual disconnected feeling of a traditional conference call.
Eventcaster is developed in-house; we don't provide of the shelf solutions, we take functionality from our pool of base APPs and tweak it for your need.  This means you get a highly customised product at the fraction of the price.
A complete solution that walks you viewers through from registration, plenary, breakouts and even a 3D walkthrough of your lobby for guests to visit your sponsors.  Completely bespoke but based on our core products, so fully customised but without the high price tag!
The entertainment part of Eventcaster is unique in its ability for guests to sit at virtual tables and talk to each other whilst watching the main act.  This could be a comedian, Band or DJ. Learn More.
With the new rules on AGMs being delivered remotely this is a new area for the industry.  We have been streaming AGMs for many years and offering informal voting for just as long.  We can offer a system that is secure and ensures each shareholder only votes once.  Security is paramount and because we develop all our software solutions in-house we can ensure that you not only pass regulatory criteria but you also surpass your shareholders expectations as well. Learn More.
Useful for breakouts and coffee breaks we offer group discussions.  With tables from 2-16 video participants plus their content (we can stream to 10,000+ viewer only) we can offer a variety of solutions. Randomised, pre-booked, pre-assigned, unlimited, against the clock or a mixture of all.  Each call is secure with no chance of a table  being video bombed.  We can currently support 750+ tables at a time, so that's over 12,000 delegates who can get together and talk. Learn More.
Large Scale delivery of your content.  This can be achieved via a virtual gallery with everything online.  We can use a remote gallery  where we bring all the content in to a high end switching room or we can provide a hybrid event at your location.  This allows the best of both worlds.  Learn More
All our large streams are done with 5-6 seconds end to end latency. Learn more here.