Recent advances in broadcasting technologies mean it does not have to be too expensive, and can add great value to your event. attend2IT specialise in high quality IP Broadcasting from camera to viewer but we are happy to offer part of the service and link to your existing camera supplier and/or CDN.
Cameras
We can mix as many cameras as you need, in Full HD or 4K resolution. With a mix of manned, stationary, or remote control cameras, you can rest assured that we will have the action covered.
Mixing
Our 4k hardware mixers allows great diversity when switching live video. With built in features such as mix effects, chroma and luma keys, adding lower thirds or titles live is quick and easy.
Streaming
We can stream the footage over our Leased satellite system or venue internet connection to our dedicated CDN (streaming servers) at the best possible bit rate to preserve quality.
Transport
When cameras are too far away from the vision mixer for a direct HDMI or SDI connection, we can transport video and audio over Fibre Optic cable or long range WiFi up to 10 Miles, meaning that you are free to place cameras where ever you like.
Encoding
We encode our footage on-site once to preserve bandwidth which makes things much cheaper. Our encoders support a wide variety of formats, at the best possible quality. We can also record a lossless version of the footage for your archives.
Processing
Our cloud servers process the incoming video stream and re-encode to multiple formats so that its accessible on multiple devices and internet speeds
Global CDN
The stream is distributed through our global CDN to ensure that any number of people can view the stream at the best possible quality.
We support Youtube, Facebook as well as most major CDNs should you wish to use your own.
Modular system
You can use as much or as little of our service as you require. If you have your own cameras and switching gear, or your own streaming platform we can fill in the gaps! Our streaming platform works on all modern browsers and devices. You can watch on your laptop, desktop, mobile phone tablet or smart TV.
Bespoke
Need 360 deg streaming?  Streaming to an APP, password protected or just to get users to fill in a survey before the stream.  Because we develop all our software and streaming products in-house we can do this for you. Get in contact to discussions your requirments.
Synchronised streaming
If you are looking to stream to lots of devices in the same location then you might like to checkout our synchronised streaming systems.
Point to Point Video
One of the more common requirements of our customers is to join to sites together. We can do this in a number of ways depending on a number of factors.  We have a large stack of Video conferencing units which allow for seamless 2 way audio and video in HD. Quick to deploy and affordably priced these are a popular solution and also work with our satellite links.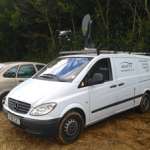 IP Uplinks
One of the reasons many streams fail is due to poor connectivity at the venue. Unrealistic upload speeds are required by a lot of our competitors.  We can work with venue connections of 2Mbps (or less if required).  However if quality is important then we can utilise our fleet of flyaway and satellite based satellite systems to offer HD streams in venues with no connectivity at all.