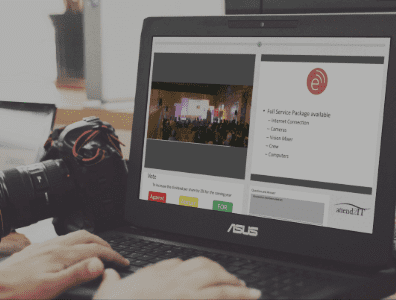 What is Eventcaster?
Eventcaster is our streaming product.  It covers a number of technologies, from AGMs, Low Latency Streaming and Large scale webinars Eventcaster has a solution that we can tailor to your needs.
We develop our solutions in-house; we don't provide of the shelf solutions, we take functionality from our pool of base APPs and tweak it for your need.  This means you get a highly customised product at the fraction of the price.
Rather than focusing on just the technical and physical issues that happen with typical 'webinars', we aim to connect people together in an exciting and new digital way, that is more than just a conference call.
Types of Stream
Whilst the act of streaming gets your message to your audience wherever they are, there are many types (and costs) which we have listed below.  The production of a stream cannot be under estimated, with multiple locations and technologies make sure you book a team who has experience.
Zoom / Skype / Teams / Bluejeans  / Webex
You might think these where our competitors but we don't!  There is a time a place for these (in fact we use some of them internally).  They are perfect for low production, real time meetings, and low budgets.  They help get the point across for little effort and cost.
We offer a support service for common conferencing software and hardware.  We can use professional cameras, mixing and encoding to make the main location look a lot more polished to your satellite sites.  We can also provide your satellite sites with help to allow you to get on with the meeting.  Finally we can provide the all important internet connection at locations where it isn't fast enough or you want redundancy.
Webinar / Webstream
Short for web-based seminar "webinar" or webstreams are normally one presenter to many viewers.  This is typically done through a CDN (content delivery network).
Of course we have our own CDN that can support 10,000+ viewers per stream.  It also allows you to have VOD (video on demand) as the event is going on.  This means as the event progresses a viewer can drop in at the live point or choose to rewind to the beginning or anywhere in between. (we haven't worked out how to go forward in time yet, but we are working on it!)
We also find a lot of our clients have a preferred CDN.  From Facebook live and YouTube to paid for services we can stream to them all and are happy to advise you in the best choice of CDN too.
Video Conference
A more traditional approach to Telepresense, but no less effective.
We have a large fleet of video conferencing units which allow for seamless two-way audio and video in HD. Quick to deploy and affordably priced, these are a popular solution and also work with our IP Satellite links.
We can offer a range of solutions depending on the remote sites capability, we can even provide crew at each location to ensure a seamless join.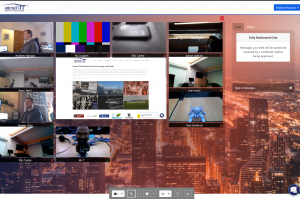 Useful for breakouts and coffee breaks we offer group discussions.  With tables from 2-16 video participants plus their content (we can stream to 10,000+ viewer only) we can offer a variety of solutions. Randomised, pre-booked, pre-assigned, unlimited, against the clock or a mixture of all.  Each call is secure with no chance of a table  being video bombed.  We can currently support 750+ tables at a time, so that's over 12,000 delegates who can get together and talk.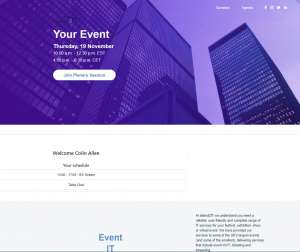 With the new rules on AGMs being delivered remotely this is a new area for the industry.  We have been streaming AGMs for many years and offering informal voting for just as long.  We can offer a system that is secure and ensures each shareholder only votes once.  Security is paramount and because we develop all our software solutions in-house we can ensure that you not only pass regulatory criteria but you also surpass your shareholders expectations as well. For more info see our dedicated page.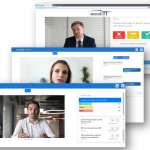 All of the above!
Typically there will be one main site with the largest audience (or most important presenters).  From here remote presenters can be introduced and collaborated with (normally over Zoom or Skype). Larger remote sites can be connected with HD two way links between them (normally by video conference).
We can the record the whole output or stream it to a larger global audience.  This audience has the option of asking questions through a webform as well as voting on key topics.
Click here to download some more info, The options are limitless so it is best to talk through all the options with one of our project managers.
EventCaster Virtual Event Space
A complete solution that walks you viewers through from registration, plenary, breakouts and even a 3D walkthrough of your lobby for guests to visit your sponsors.  Completely bespoke but based on our core products, so fully customised but without the high price tag!
Cameras
We can mix as many cameras as you need, in Full HD or 4K resolution. With a mix of manned, stationary, or remote-control cameras, you can rest assured that we will have all the action covered.
Mixing
Our 4K hardware mixers allow great diversity when switching live video streams. With built-in features such as mix effects, chroma and luma keys, adding lower thirds or titles live is quick and easy.
Streaming
We can stream the footage over our leased satellite system or venue internet connection to our dedicated CDN (streaming servers) at the best possible bit rate in order to preserve quality.
Transporting AV over Fibre Optic or Wi-Fi
When cameras are too far away from the vision mixer for a direct HDMI or SDI connection, we can transport video and audio over fibre optic cable or long-range Wi-Fi up to 10 Miles, meaning that you are free to place cameras wherever you wish.
Encoding
We encode our footage on-site once to preserve bandwidth, making the service considerably more affordable. Our encoders support a wide variety of formats, at the best possible quality. We can also record a lossless version of the footage for your archives.
Global CDN
The stream is distributed through our global CDN to ensure that any number of people can view the stream at the best possible quality.
We support YouTube, Facebook as well as most major CDNs, should you wish to use your own.
Modular System
You can use as much or as little of our service as you require. If you have your own cameras and switching gear, or your own streaming platform we can fill in the gaps! Our streaming platform works on all modern browsers and devices. You can watch on your laptop, desktop, mobile phone, tablet or smart TV.
Bespoke
Need 360-degree streaming? Footage can be streamed to an app, password protected, or can be used to capture user data by filling in a survey before the stream. Because we develop all our software and streaming products in-house we can do this for you. Get in contact to discussions your requirements.