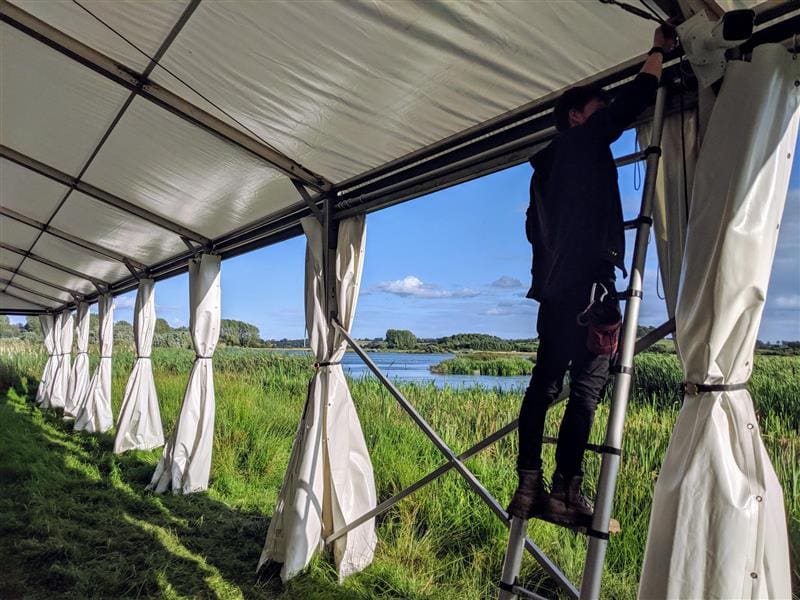 Until its retirement in 2022 Birdfair was one of the world's leading conservation events, every year exhibitors and visitors congregate on the SSSI (Site of Special Scientific Interest) which has nothing in the way of infrastructure and utilities including power and even mobile phone signal. The challenge for this site was not just bringing enough internet and WiFi onsite to service the site of this size but to be work with such tight conservational restraints to ensure no harm would come to the rare species that live onsite for the other 50 weeks of the year.
The event itself requires connectivity for over 500 concurrent devices each using high priority data for demonstrations and processing transactions, not including the WiFi PDQ machines we supply for exhibitors to reliably process transactions.
We wirelessly beam a 100Mb leased line to the site with satellite back up, we then build a unified WiFi network to distribute this connection to all 10 trader's marquees which between them house over 500 stands. We also cover other key areas like the organisers office, events marquees and public catering areas.
Before we started supplying this event in 2014 this aspect was very problematic as various suppliers have failed to deliver a reliable service. Now we have been providing a reliable service for a few years now we have seen a steady amount of growth as the exhibitors are gaining faith in our service as well as the steady rise in cloud services having a bigger impact on people's lives.
Now in our 5th year our services have expanded to include Ticket sales, exhibitor hub, CCTV and onsite scanning.  We now get to spend over a week at the reserve with 7 staff performing a number of roles and services for the event.