The Anti-Zoom?
Let us get this out there, Zoom is a great product, its very popular because of its simplicity and reach. It very much has a place, just not in high end conferencing. We compare it to having a conference in a Travel Lodge (sorry Mr Gowers). It works, it has all the functionality its just not 5 Star. Users have to log in, log out, move around and the branding is inconsistent, making it difficult to get your message across at a large event.
We build complete virtual experiences for your delegates.  This means they get brand awareness from start to finish.  They get one log in for the period of the event.  They can be free to explore the site or be pushed from one page to the next as the running order demands.
We have a number of core technologies that we can bring together to give you a personalised site at the fraction of the price of having it made from scratch. A quick demo can be seen here
Voting and feedback
The 101 of online conferencing. You don't need to load an APP, type a pin number or even leave the site;  its right there, in your virtual environment.  Results comeback to the presenter in real time and can be displayed at the click of a button, again without anybody leaving the site.
Wordclouds & Whiteboards
Need to brainstorm? We've got you covered, from simple word-clouds to interactive and real-time whiteboards users can share their ideas without having to wait.
We can generate the word cloud as people respond, keeping it live throughout the conference so it changes throughout the event.  We can use your logo or other shapes as a mask and run multiple clouds accross the virtual event space.
Whiteboards can be used in 1:1 sessions, group chats or even the plenary if you wish. They offer text, pictures and of course markers to allow your presenters to get the message across.
Delegate Chat
Get them talking, we can offer group chat, based on the room the users are in.  Alternatively this can be grouped by department, area or just 1:1 – its your choice
Bespoke
We rarely have everything a client requires.  If you have a favourite program you want to use (or have to use for compliance) then we can API with it. We might even be able to write something similar to keep your delegates on your site.
Its your show and we are here to support it, let us know what you need and we can make it happen.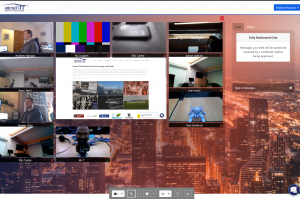 Useful for breakouts and coffee breaks we offer group discussions.  With tables from 2-16 video participants plus their content (we can stream to 10,000+ viewer only) we can offer a variety of solutions. Randomised, pre-booked, pre-assigned, unlimited, against the clock or a mixture of all.  Each call is secure with no chance of a table  being video bombed.  We can currently support 750+ tables at a time, so that's over 12,000 delegates who can get together and talk.
With the new rules on AGMs being delivered remotely this is a new area for the industry.  We have been streaming AGMs for many years and offering informal voting for just as long.  We can offer a system that is secure and ensures each shareholder only votes once.  Security is paramount and because we develop all our software solutions in-house we can ensure that you not only pass regulatory criteria but you also surpass your shareholders expectations as well. For more info see our dedicated page.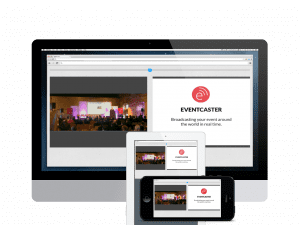 All our large streams are done with 5-6 seconds end to end latency. Latency is the time taken from the words coming out of the presenters mouth to get to the listeners ears. It is one of the areas that is often overlooked in streaming.
Imagine you have interactive content, a vote or poll if your presenter asks the question and then has to wait 30 seconds for the results to start to come in. You are going to need lower latency otherwise your event is going to become very stagnated. Learn more here.