Engage and wow your team!
The Eventcaster difference.
We build virtual event environments.  That means you get a solution bespoke to your needs.  This allows you to have the plenary's, breakouts, network tables and evening entertainment just how you need it.
We move you guests around the virtual space automatically, although they are free to explore if that's what you wish too. Just let us know and we will make it happen.
How does it work?
The entertainment part of Eventcaster is unique in its ability for guests to sit at virtual tables and talk to each other whilst watching the main act.  This could be a comedian, Band or DJ.
Because they are in small tables they can talk together with ease.  They can even mute the main act and just catch up (or mute the table and just listen to the main act!)
We also offer a text chat which links all the tables together  as well as a pub quiz option.
Users can also move to different tables and mingle in different spaces.  The possibilities are endless. Just let us know how you would like your event to run and we will make it happen.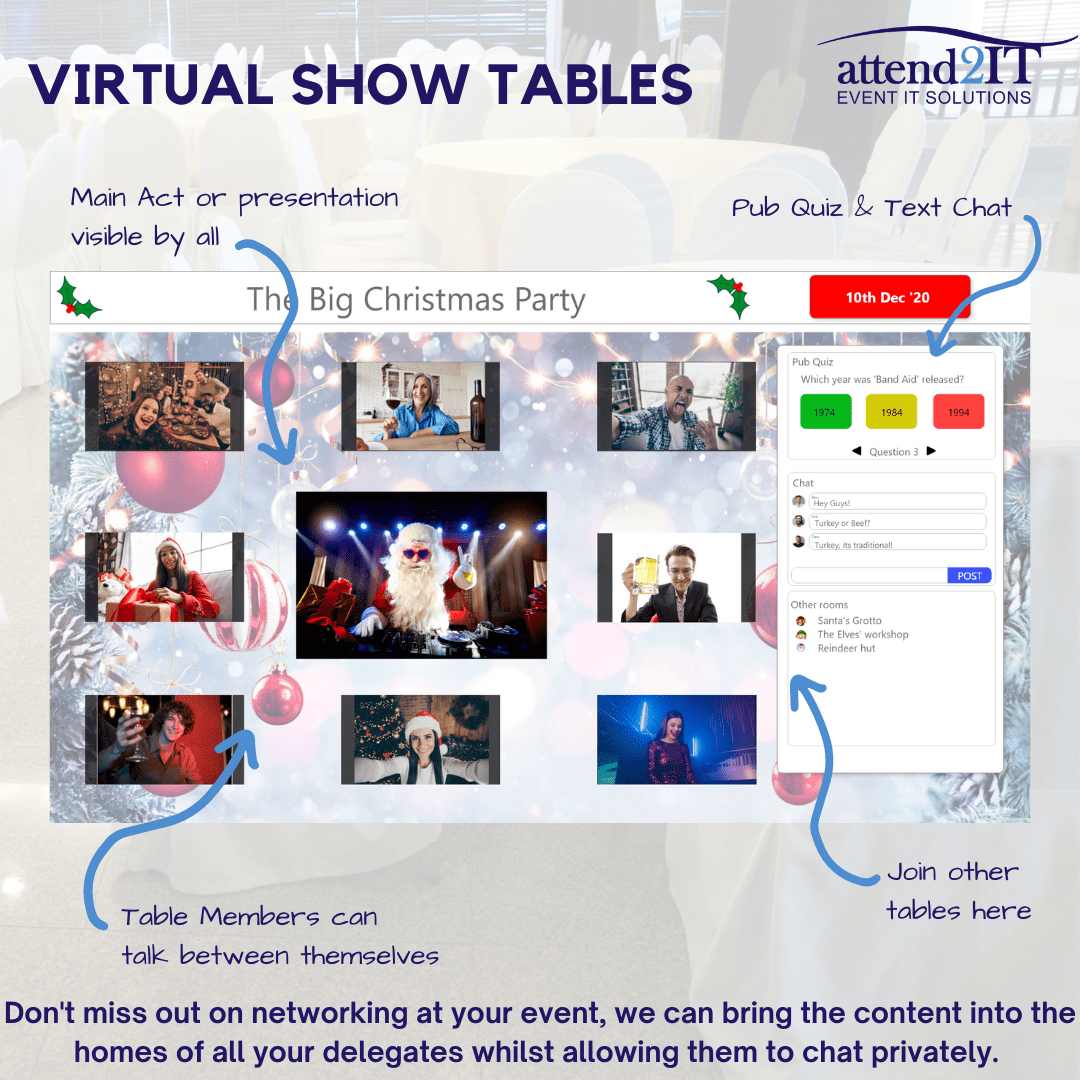 How much does it cost?
A difficult question as this module could be a small part of your overall virtual environment.  We will need to see your running order and discuss how much you want the site to be branded before we can come up with a package for your needs.  However because we are an event IT company we are pulling existing elements together to make it bespoke for you.  Thats just a long way of saying it will probably be less than you think!  Get in contact for a quote.
Large Scale delivery of your content.  This can be achieved via a virtual gallery with everything online.  We can use a remote gallery  where we bring all the content in to a high end switching room or we can provide a hybrid event at your location.  This allows the best of both worlds.  Learn More
All our large streams are done with 5-6 seconds end to end latency. Latency is the time taken from the words coming out of the presenters mouth to get to the listeners ears. It is one of the areas that is often overlooked in streaming.
Imagine you have interactive content, a vote or poll if your presenter asks the question and then has to wait 30 seconds for the results to start to come in. You are going to need lower latency otherwise your event is going to become very stagnated. Learn more here.
With the new rules on AGMs being delivered remotely this is a new area for the industry.  We have been streaming AGMs for many years and offering informal voting for just as long.  We can offer a system that is secure and ensures each shareholder only votes once.  Security is paramount and because we develop all our software solutions in-house we can ensure that you not only pass regulatory criteria but you also surpass your shareholders expectations as well. Learn More.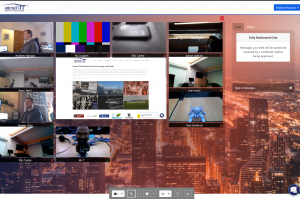 Useful for breakouts and coffee breaks we offer group discussions.  With tables from 2-16 video participants plus their content (we can stream to 10,000+ viewer only) we can offer a variety of solutions. Randomised, pre-booked, pre-assigned, unlimited, against the clock or a mixture of all.  Each call is secure with no chance of a table  being video bombed.  We can currently support 750+ tables at a time, so that's over 12,000 delegates who can get together and talk. Learn More.